Wednesday, June 22, 2011 at 9:36AM
I am not a seamstress. Until two days ago I had never even attempted to make something that one would actually consider wearing! That being said, I DID make a dress for my daughter on Monday, and I am quite pleased with the result. Here is view of the back. What do you think?
I originally spotted this dress on Pinterest, from Cami over at Tidbits. Cami is clearly a very talented seamstress, and she has a great tutorial on how she made her daughter's bustle dress. I highly recommend checking out her instructions!
The dress I created was made from one of Mo's old dresses, two of my old T-shirts, one shirt that was used on a dress form for a craft show for my tutus, and a scrap of one of my hubs T-shirts that was doomed for the rag pile. Everything was already in the GoodWill pile, so this dress cost me nothing but time. And since Monday was rainy all day, it was a great project to occupy the time!
The first thing I did was cut the top of the dress off, just leaving the skirt, and cut the bottom of the T-shirt off. (***This is not really a tutorial since 1) I didn't really know what I was doing and, 2) I don't have great pics of all the steps because I didn't really know what I was doing! Feel free to just look at the pics and stop reading now!***)
I set those pieces aside and started cutting strips, about 4" wide, of my red and white T-shirts. I cut the seam on one side so that I had a nice, long piece. Then I made a stitch across the top of each piece, and pulled the bobbin thread to ruffle the strip. This step took awhile. If you have a machine that will ruffle your fabric for you, I highly recommend using it! ;) Once I had enough strips cut and ruffled, I started sewing them onto the scrap of fabric that I cut slightly larger than the back of the skirt. (Sorry if this makes no sense!)
I started sewing at the top. When I completed a row, I just flipped up the previous layer(s) and sewed the next row on.
When all of the ruffles were on I ended up with the piece that would become my bustle.
This next step was the hardest part for me. I practically failed geometry, and even with my tools, I had a very hard time figuring out what angle to cut my skirt at. In the end, it wasn't as hard as I made it out to be, but I was so nervous about ruining the skirt that I was arfaid to make the wrong cut. The skirt had an elastic waist that I wanted to keep. Anyhow, I ended up just measuring a few inches in from each side at the bottom, finding the middle at the top where I wanted the cut to end, and cutting a line between the points.
I don't have pictures of the next parts, but I will very briefly explain what I did, although I don't think anyone will be trying my method! :) I flipped my skirt inside out and pinned the bustle where it needed to go. I then sewed a seam across the top and down the sides. The bustle was on. Next, I sewed the shirt part onto the skirt. It was my first time sewing "in the round", but I just went nice and slow, and the shirt was attached. I had a dress, but it looked a bit unfinished, so I cut some more pieces of the red T-shirt and made a sort of waistband and bow. Here is the final product.
I really cannot believe I made that! So, if I can do it, I KNOW anyone can do it! Give it try and let me know what you created! I am going to link this up to some of my favorite linky parties! Check 'em out!
******UPDATE: I cannot believe I was the number one project over at CSI this week! Crazy! Glad I stepped out of my comfort zone and tried something new! Thanks for hosting, ladies!****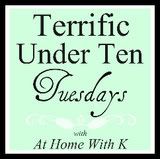 Enjoy the Son!